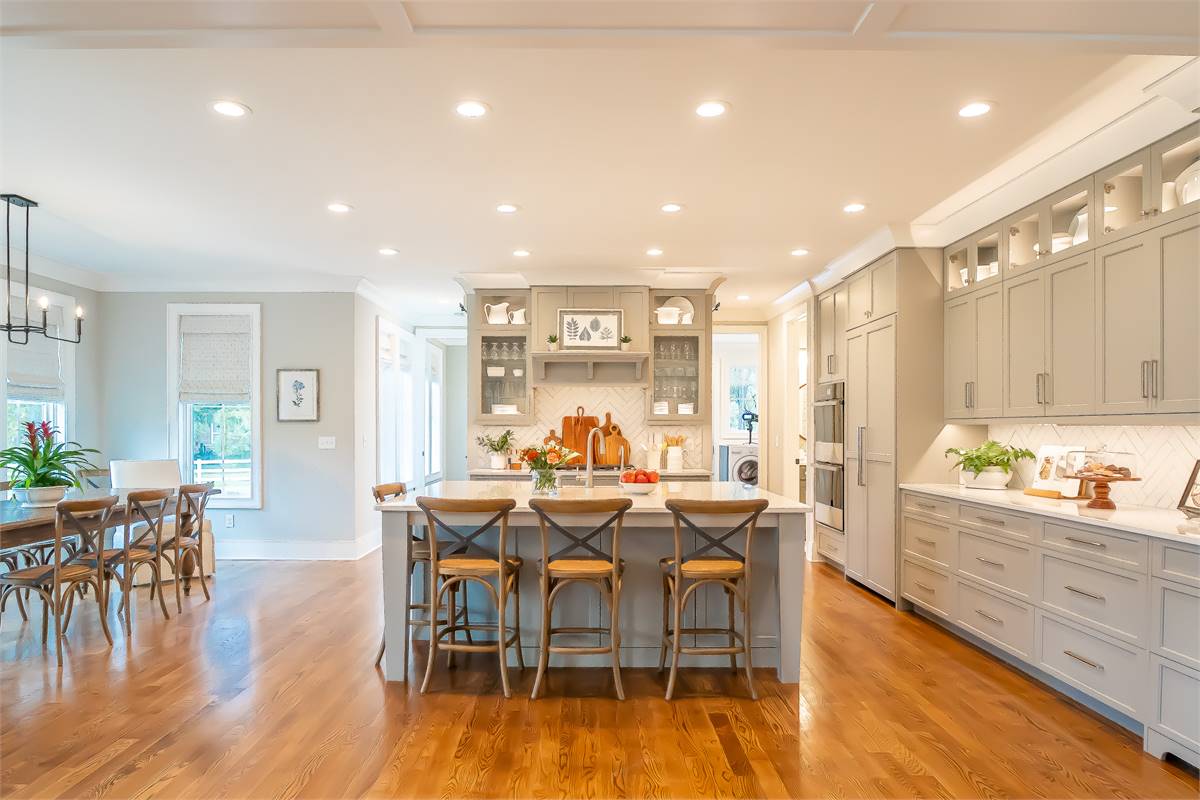 Happy Holidays! Christmas, Hanukkah, Kwanzaa, Boxing Day, and New Year's Eve—these are just some of the festivities that take place in the month of December. Each holiday brings its own observances, traditions, foods, and decorations. Depending on what you celebrate, the holidays last anywhere from one to eight nights, so you have ample opportunity to gather with friends and family to make your holiday season great. But to do that, you'll need somewhere to host them. Perhaps you'd like a holiday-ready home? Here are some popular options with beautiful kitchens and living rooms, outdoor spaces, and comfortable sleeping quarters for everyone. And as you'll see, homes for the holidays make wonderful places to live all year-round!
Gorgeous Living Room & Kitchens
Perfect for Entertaining During the Holidays
Check out DFD-5089. This exclusive modern farmhouse is the perfect place to celebrate an old-fashioned Christmas.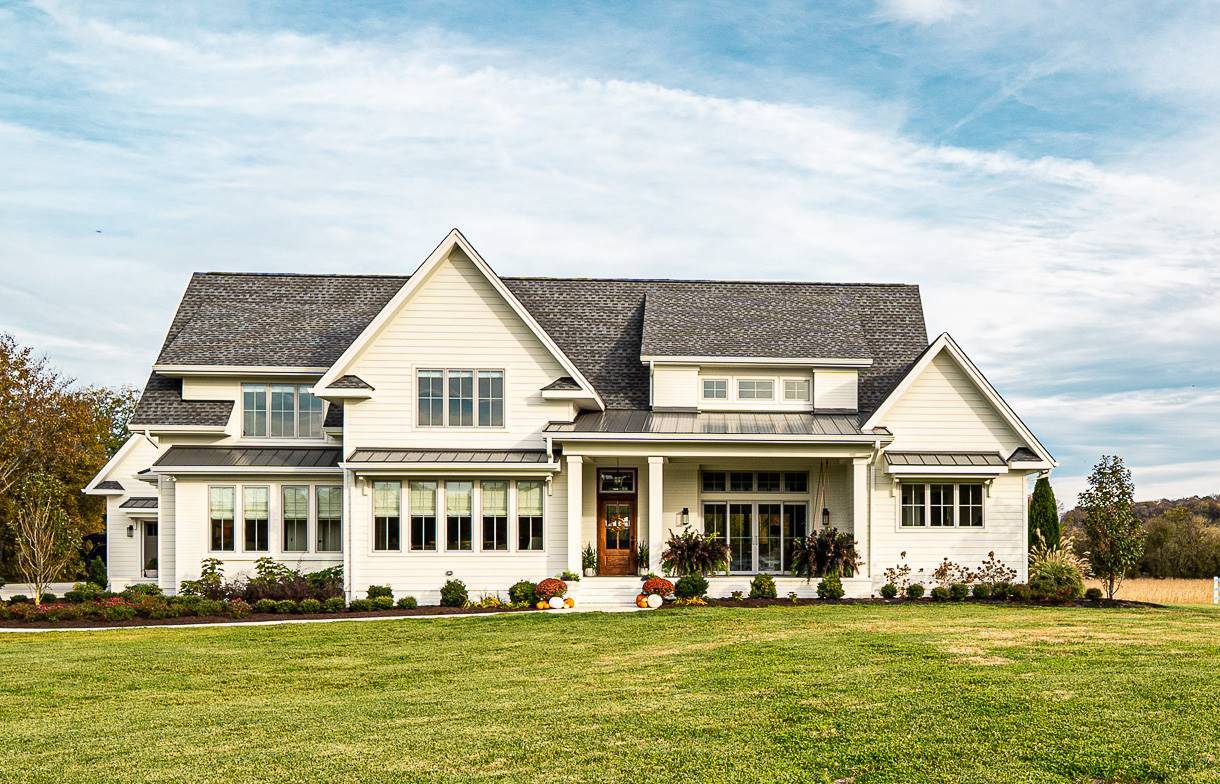 Can't you just picture the tree with presents all around in the corner by the French doors? And stockings hung on the mantle by the fireplace? With seasonal décor and a wintry scene outside, this living area could host a picture-perfect Christmas with ease.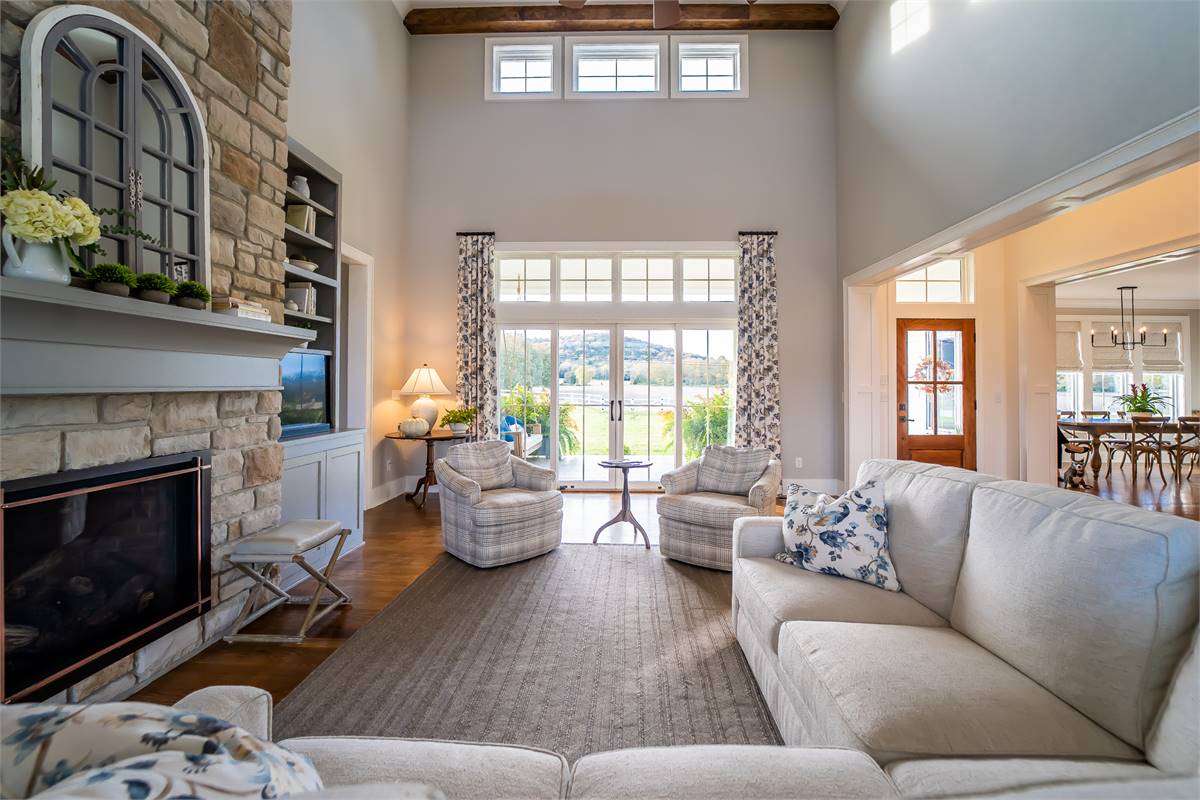 The kitchen is perfect for preparing big holiday dinners. How about that giant island? Can you see yourself hanging with the grandchildren while making cookies and treats? Or perhaps you envision laying out a grand spread for guests to graze on? With all this space, the possibilities are endless! If you'd like to find a home that puts a focus on the kitchen like this, explore our Fabulous Kitchen Collection.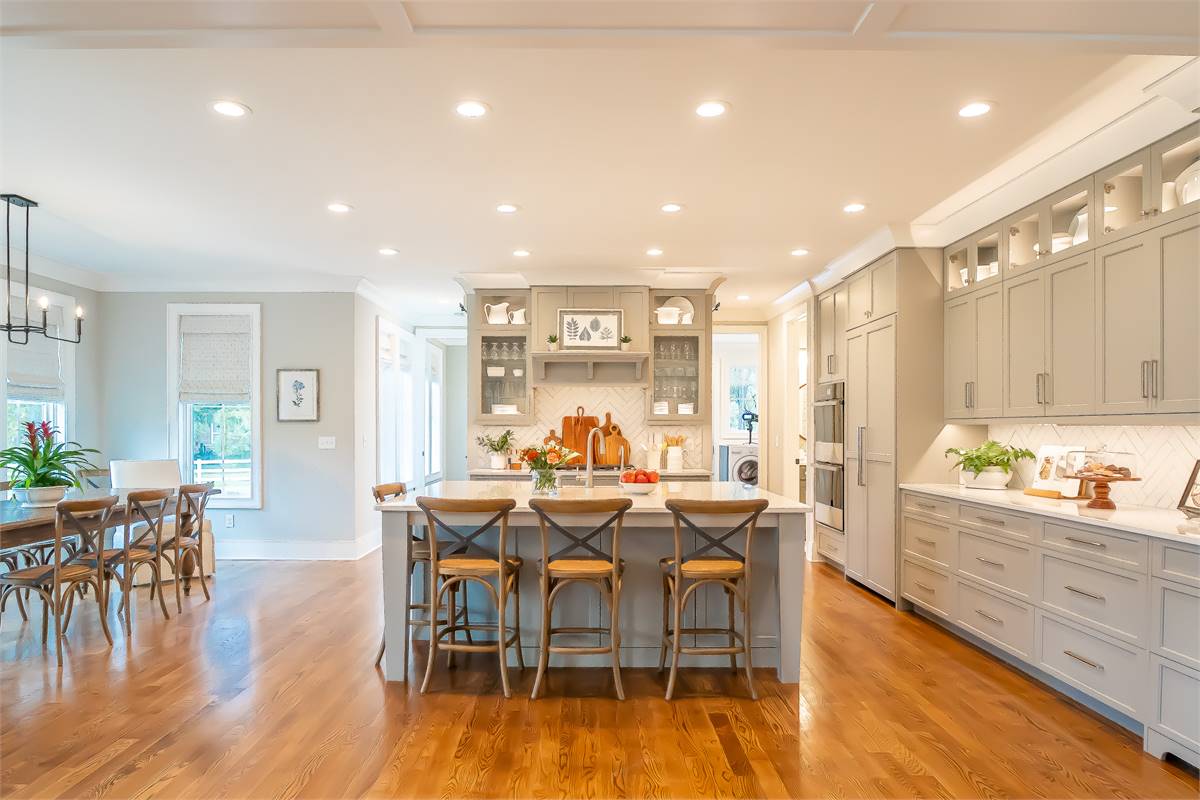 Indoor/Outdoor Hosting Potential
Flexible Homes for the Holidays in These Times
Another gorgeous home for entertaining is DFD-5252. The beautiful storybook Craftsman design invites you to enjoy connection even with some partitions that formally define the spaces.
Enter through the foyer and you'll immediately see the dramatic stone fireplace. It sits between the dining and living areas, viewable from both sides. With ample seating for sit-down holiday dinners and room to mingle, you can host any sort of event you prefer. That cozy fire will warm guests wherever they are!
If traditional holiday get-togethers still seem a bit too risky, you may prefer to move the party outside. Being out in the fresh air reduces the likelihood of viruses spreading. Of course, you'll need enough comfortable outdoor space to accommodate your guests. No matter your geographical location, you can find a solution! Many homes have outdoor fireplaces to help with ambiance and provide warmth, so you can enjoy them even in the winter. DFD-5252 includes just that on its expansive lanai! Take a look at our Outdoor Living Collection if you'd like something like this.
Sweet Dreams for Everybody
Treat Your Overnight Guests to Cozy Accommodations
Finally, where are out of town guests going to sleep? Many of our homes have regular bedrooms in addition to walkout basements, bonus rooms, and bunk rooms that you can finish to suit your needs. So, you don't have to search for homes that have more bedrooms than necessary for your own family! Just keep an open mind and imagine what you could do with the different areas of the floor plans you like.
Want a home with plenty of flexibility? Consider DFD-1132. Not only does it have a family room upstairs to give kids their own space, but there's also a large ensuite bedroom across the catwalk from the other bedrooms and bath. This will serve guests in comfort and style! And if the main floor plans don't provide enough, look to the walkout basement—you can do whatever you want with all that extra square footage.
You'll find another wonderful suite in DFD-7876. This large bedroom also features a private bath and is located off the upstairs media room. It's another layout that places guest quarters near the other secondary bedrooms, but not all plans are like this. Many place the guest suite right off the foyer for easy arrivals and departures. Use our Advanced Search if you'd like to find a home with a dedicated guest room. You can also explore our In-Law Suite Collection to see homes with everything to basic to luxurious accommodations!
Whatever holiday(s) you celebrate, be sure to take the time to enjoy your family and friends and remember the reason for the season! But if your home isn't up to the task, we can help. Reach out and we'll be happy to find a wonderful home that answers all your needs. You could spend next holiday season as the best host or hostess around!